AI IS CHANGING OUR WORLD. ARE YOU READY TO BUILD SOMETHING IMPACTFUL?
NextAI is a world class program for artificial intelligence based ventures and technology commercialization.
We identify talented idea or early-stage teams with ambitious solutions and leverage Canada's leadership position in AI to provide them with the capital, mentorship, education and network to disrupt industries.
NextAI is delivered on two campuses: Toronto and Montréal. NextAI – Montréal is delivered in partnership with HEC Montréal.

WORLD CLASS CURRICULUM
Receive structured education from global faculty and AI experts in two streams: technical and business.

TOP AI SCIENTISTS AND CORPORATE MENTORS
Access to a curated network of business mentors, scientists-in-residence, and advisors.

INVESTMENT TO SCALE YOUR BUSINESS
Receive up to $150K in venture funding. See FAQs for funding terms.


IN-KIND PRODUCTS AND SERVICES
Access to leading AI technologies and legal assistance through in-kind partners like NVIDIA, AWS and Osler.

CO-WORKING SPACE
Build your venture surrounded by other innovators with office space located in Toronto or Montréal.

START UP VISA SUPPORT
Start Up Visa support is available for international applicants who wish to establish a high-growth AI business in Canada. WHAT YOU'LL LEARN
Both Toronto and Montréal provide a hot spring of local talent, global experts, and top-tier researchers. Over the course of the program, NextAI entrepreneurs will receive invaluable technical and business education from a community of Canadians and world renowned leaders including: NextAI accepts idea or early stage ventures that are passionate about solving global problems by leveraging the power of AI. We are looking for exceptional teams that are committed to building and executing powerful AI enabled solutions.
We're looking for teams comprised of:

Minimum one business and one technical co-founder

Combined strong backgrounds in relevant business and technical fields

Deep domain expertise

Relevant work and entrepreneurial experiences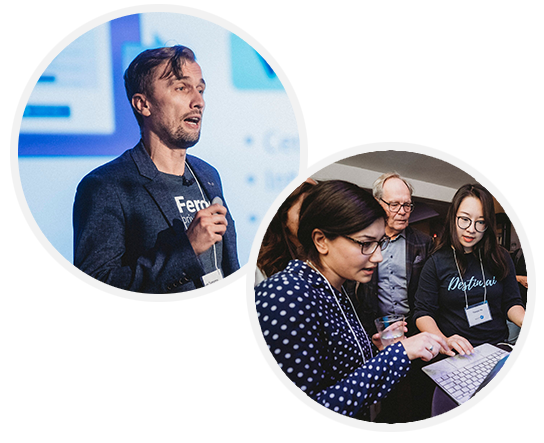 FREQUENTLY ASKED QUESTIONS
Eligibility and Application
What are the individual requirements for co-founders?
We welcome applicants of all ages, from all countries, from any educational background. Impress us with your solution, your passion and your skills. Each program participant is required to have, or intend to have, a minimum of 10% of equity.
What are the team requirements?
An ideal team would have at least two participants, a CEO and CTO. In all cases, the team should display convincing strength in three areas: technical skills, business acumen and subject matter expertise. 
What are the venture requirements?
The program is designed for early stage/pre-seed ventures. Our ideal candidate is a team that found a problem-solution fit, has a prototype and early traction in the form of a pilot, early revenue or funding. We will consider ideas with high impact potential.
I have a great idea, how do I find a team?
You can use the founder matching platform to connect with other like-minded peers to build your co-founding team. 
Can I get into the program as a Sole Founder?
You are much less likely to be accepted to the program as a Sole Founder. Since our program is structured to accelerate the development of both the technical and business sides of the venture, we typically look for ventures with a strong business lead and a strong technical lead.
If you are looking to grow your co-founding team, visit the founder matching platform.
My venture already has equity funding. Am I eligible for NextAI?
Each application will be reviewed on a case-by-case basis. Contact us to learn more. 
Should I apply for the technical or business stream? 
Each team must have at least one technical stream founder with deep knowledge or experience with an AI-related field through education or work. Evidence of this knowledge is submitted as part of the application through your resume, GitHub, publications, etc.
Technical applicants should have a solid foundation of probability and/or statistics, linear algebra, calculus, data structures and algorithms in order to follow the Masters level technical curriculum delivered. We also look for programming experience to apply the learnings from the courses.
Applicants not meeting these criteria should apply to the business stream.
Program Details
What are the costs to participate in the program?
There is no cost to participate in NextAI. The program is delivered by NEXT Canada, a non-profit charity supported through the generosity of Canadian business leaders, entrepreneurs and government partners. NextAI – Montréal is delivered in partnership with HEC Montréal. 
What is the time commitment?
All teams must commit to moving to their program city (either Toronto or Montréal) from March to September. When you are not participating in NextAI training and development you will be working full-time on your AI idea/venture.
Do I have to be in Toronto or Montréal to participate?
Yes, you must live and work in your program city (either Montréal or Toronto) for the duration of the program.
Can I continue to work at my job while I participate in the program?
No, all participants must be 100% committed to the program and their idea/venture for the duration of the program.
Where will I live during the program?
Each participant is responsible for their own housing for the duration of the program. We recommend teams live together to save costs and facilitate full time work on their idea.
What language is NextAI delivered in? 
The official working language for NextAI is English. However, NextAI – Montréal will accept business material in either language.
Funding and IP
Who owns the intellectual property developed within the NextAI program?
IP created during the NextAI program belongs to the venture and should be assigned as such.
My university owns part of my IP through my PhD research. Am I eligible to apply to NextAI?
All IP used by the team within their venture has to either be owned by the venture or the company needs a license to use it.
Do you take any equity for the funding? What are the terms?
Toronto: $25,000 of initial funding is provided as investment on a SAFE from NEXT Canada with a $2M cap. 
Montréal: $25,000 of initial funding is provided by NextAI – Montréal as non-dilutive grant funding. 
Both locations: Up to an additional $125,000 is available for top performing teams on a SAFE agreement from NEXT Canada, no CAP at a 20% discount to next round.
How can we get funded after the program ends?
Top VCs and investors from across North America are involved with NEXT Canada. Many ventures have secured follow-on funding through the NextAI investor network.
International applicants
I am an international applicant. What must I do to participate?
All participants of the NextAI program must be legally permitted to live and work in Canada for the duration of the program. 
We recommend you begin by reviewing the requirements of any individual looking to move to Canada as early as possible as there are several items you need to submit with your visa application (medical exam, language proficiency exam, background check, settlement funds, spoken languages, etc.). You are highly encouraged to have all documents ready by the time you submit your application.
You can review immigration options on the government website here for Toronto, and here for Montreal.
Can NEXT Canada provide assistance with the immigration?
Yes. NEXT Canada is a designated entity for Canada's Startup Visa (SUV) program and will be able to assist Toronto participants with this visa process upon acceptance of an offer to participate in the program. 
Montréal participants will also receive support to obtain a visa through the Quebec Entrepreneur Program (Stream 1).
What is the Start-Up Visa (SUV) program? (Toronto only)
Canada's Start-Up Visa (SUV) Program is intended to attract foreign entrepreneurs who wish to establish new, high-growth businesses in Canada which will support innovation and job-creation. To be eligible for the Start-up Visa Program, entrepreneurs must be accepted into a program offered by a designated Canadian business incubator or accelerator like NEXT Canada.
What is the Quebec Entrepreneur (QE) program? (Montreal only) 
Montreal applicants can apply to the QE Program (Stream 1). Like its Canadian equivalent, this program is designed to help high-potential entrepreneurs from around the world build businesses in Quebec. Once approval from Quebec Immigration has been received, participants will be able to apply for a Temporary Work Permit in Canada, while they wait for their Permanent Residence.
Can NEXT Canada provide assistance with other immigration programs other than SUV / QE programs? 
No. At this time, NEXT Canada is exclusively processing applications through the Start-up Visa program for NextAI participants in Toronto. 
Local NextAI partner HEC Montréal is in turn processing applications exclusively through the QE program (Stream 1) for Montréal participants. 
How long does it take for the government  to review the Permanent Residence application under the SUV / QE programs?
The official review process takes 12-16 months. The process will initiate once the full list of supporting documents and a complete application is submitted to the IRCC. For the SUV, NEXT Canada will provide the required Letter of Commitment to successful teams and individuals upon acceptance of an offer to participate in the program. 
As every Visa case is unique, individuals or teams requiring a Visa through the SUV program will be assisted on a case-by-case basis as offers are extended and accepted, addressing the individual's situation in particular. 
When do I have to arrive to Canada? 
The program starts in mid-late March. All participants should arrive to Toronto / Montréal before the start date. If you are accepted but unable to make it due to visa processing issues, our office will be working with your team to facilitate remote participation where possible. 
NEXT Canada and HEC Montréal will also assist you with a short-term work permit application under the SUV / QE programs, which can expedite your arrival to Canada while your PR application is under review.
Note that NEXT Canada and HEC Montréal cannot guarantee a successful outcome for the short-term Work Permit and Permanent Residence applications.
Which steps do you recommend I start with immediately to expedite my SUV application? 
The biggest hurdles are often the language tests (scheduling and completing) and establishing required settlement funds. Potential applicants should check out the requirements before even applying to NextAI. If you do not meet the standard, we do not recommend applying. Those who do meet the requirements should begin collecting these pieces as soon as possible – even prior to NextAI application.
Each individual applicant to the SUV / QE programs must complete individual requirements for approval by Canadian Immigration & Citizenship. Review the necessary requirements, and tips on how to get started on each, at the links below. 
The eligibility requirements, including settlement funds and language proficiency: here.
Medical exams, police clearance, travel history and processing times: here.
International participants selected in Montreal, will additionally require a business plan, prepared by HEC Montreal for the Quebec Ministry of Immigration, as described here.
What are the other SUV eligibility criteria for individuals? 
Applicants must:
– Intend to reside in a province/territory other than Quebec.
– Have the support of a Canadian business entity, in the form of a Commitment Certificate (You must be offered and accept placement in NextAI) 
– Meet/exceed the minimum language proficiency threshold set by the Minister for each of the four language skill areas.
– Have completed at least one year of post-secondary education.
– Have sufficient funds to economically establish themselves in Canada. Applicant must demonstrate that they have funds that are available, transferable and unencumbered by debts or other obligations. Amount of required funds is assessed according to the applicant's family size.
What are the other SUV eligibility criteria for companies? 
Companies must:
– Have no more than five essential persons per business proposal.
– "Essential person": foreign national considered by the designated entity to be essential to the business being established under the program.
– If the application for an essential person is refused for any reason, all other applications related to that commitment must also be refused.
– Applicant must hold 10% or more of the voting rights attached to all the shares of the corporation outstanding at the time the commitment is made.
– No persons or entities, other than qualified participants, hold 50% or more of the total amount of the voting rights attached to all the shares of the corporation outstanding at the time the commitment is made.
As an immigrant, what can I expect when I move to Toronto/Montréal?
If you are new to the country, you can find answers to common questions about moving to and living in:
Ontario (Toronto)
Quebec (Montréal)