We are seeking new talents
We are currently in a recruitment phase to find the new talents who will be part of the 2024 Next AI Program.
NEXT AI 2024 PROGRAM
FOR VALIDATION/ DISCOVERY/ EFFICIENCY STARTUPS
APPLICATIONS OPEN ON OCTOBER 15TH
Get ready to apply to the Next AI 2024 program
VALUE PROPOSITION
– World-class curriculum taught by award-winning faculty 
– Access to top AI scientists and Venture Managers
– Access to an international pool of Mentors and Investors
– High impact Workshops and Speaker Series
– Free office space in the heart of Toronto and Montreal's AI hubs
The Next AI program is delivered in Toronto, Montreal, and remotely.  Please use the appropriate link to apply: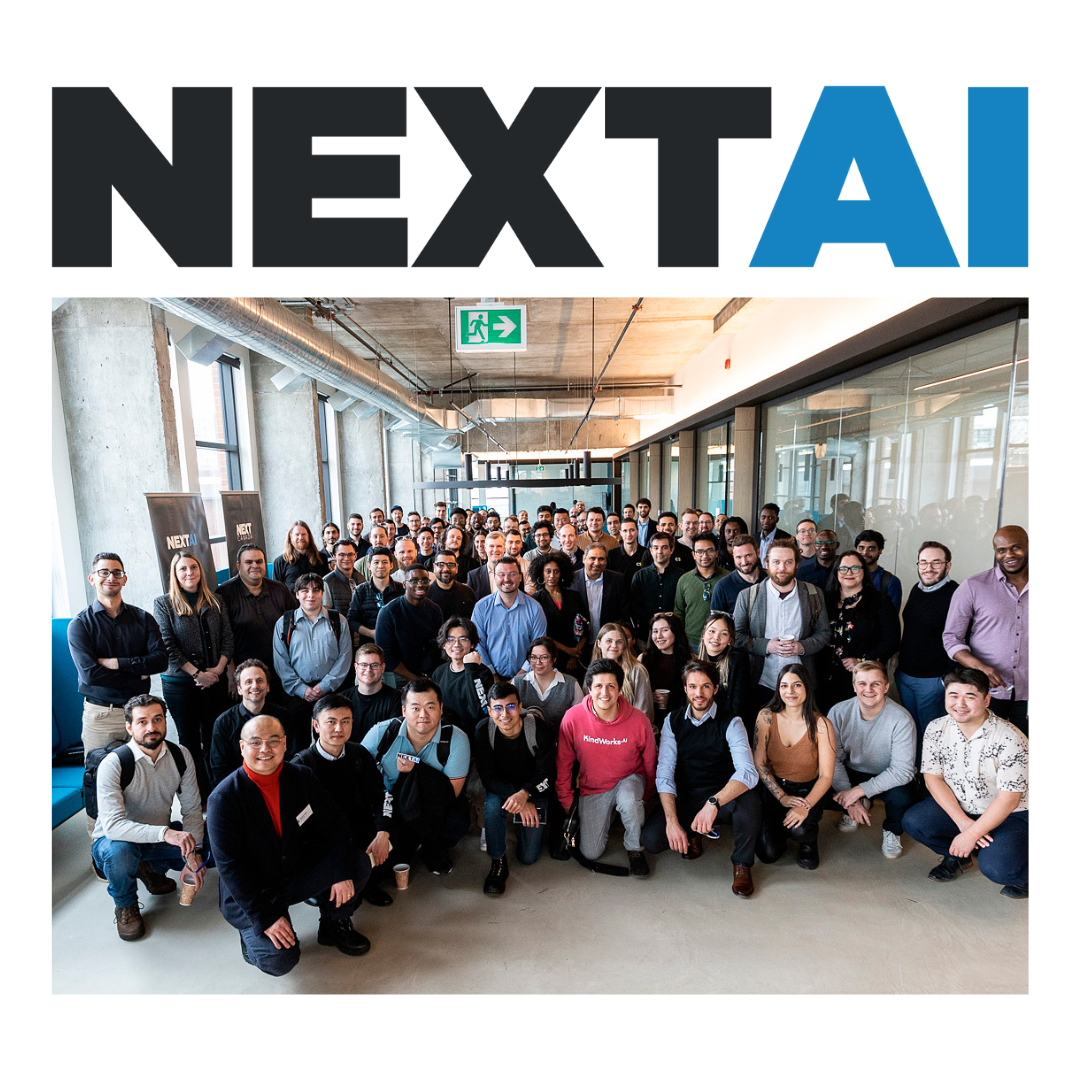 FOR ENTREPRENEURS LOOKING TO SOLVE GLOBAL CHALLENGES WITH AI-ENABLED SOLUTIONS.
Next AI is a world-class founder and venture development acceleration network for AI-enabled startups. Founders can participate from anywhere in Canada, following the program remotely or in-person from the Toronto or Montreal sites. Leveraging a renowned ecosystem of AI and business experts, Next AI provides support on both AI product development and market commercialization. Each year, Next AI identifies the top early-stage teams developing ambitious AI-powered solutions and provides them with the mentorship, education, and network to have a global impact.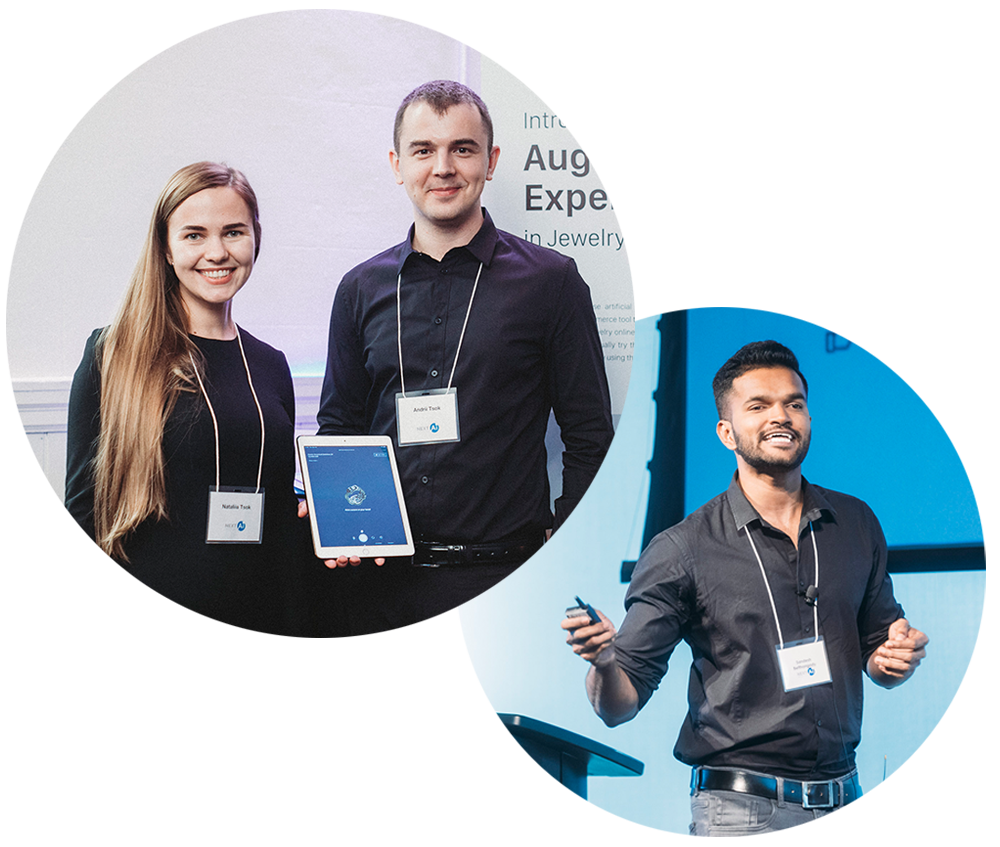 Introducing The Next AI 2023 Cohort
This year's Next AI cohort boasts 94 founders leading 44 ventures across a diverse range of industries, including Life Sciences & Advanced Health, Enterprise Software, Art, Digital Media & Telecommunications, Financial Services, Advanced Materials & Manufacturing, Retail Consumer, Human Resources, Clean Tech, E-commerce, Security, Mining, Oil & Gas, Transportation, Tourism, Culture & Entertainment, and Proptech.

World-class curriculum taught by award-winning faculty 

Access to top AI scientists and Venture Managers

High impact Workshops and Speaker Series


Access to perks from leading AI technologies and legal assistance through in-kind partners like NVIDIA, AWS and Osler

Free office space in both Toronto and in the heart of Montreal's AI hub

Access to an international pool of Mentors and Investors WHAT YOU'LL LEARN
Next AI provides a hot spring of local talent, global experts, and top-tier researchers. Over the course of the program, entrepreneurs will receive invaluable technical and business education from a community of Canadians and world-renowned leaders, including:
MARK YOUR CALENDAR

Applications Open
October 15, 2023

Deadline To Apply
December 10, 2023

Program Runs
March - September 2024

PHASE ONE
The program's first phase consists of common-track and 1-1 support, offered both in-person and virtually, to upskill founders and strengthen the foundations of their ventures. Founders receive instruction from internationally acclaimed faculty and Canadian business leaders and get introduced to devoted mentors, Venture Managers and scientists-in-residence. With support from legal and accounting partners, they organize their venture to be investor-ready and consolidate their product roadmap.
By the end of phase 1, founders are ready to validate their offering on the market and accelerate the growth of their project.
PHASE TWO
Phase two sees entrepreneurs being exposed to learnings from top business leaders and accelerating their product development. Mandatory programming is reduced, allowing entrepreneurs to focus on customers while receiving support from Venture Managers and mentors. Towards the end of phase two, Ventures receive extensive training to improve their pitches before being introduced to a select group of investors interested in early-stage AI ventures.
Next AI – 1-1 support complemented by lessons from industry leaders, while Founders focus on product growth, market validation and capital acquisition.
Companies meeting the following criteria are encouraged to apply :
– Stage of development : Discovery-Efficiency
– AI Is core to the Idea/Company
– Team is driven by its mission, Open to mentoring, possesses in-depth technical expertise and/or a good understanding of the industry
– A minimum of one business co-founder and one distinct technical co-founder who intend to receive a minimum of 10% of the company's shares and hold Canadian citizenship / permanent residency or a valid work / study permit
– Business model and market opportunity conducive to massive scaling.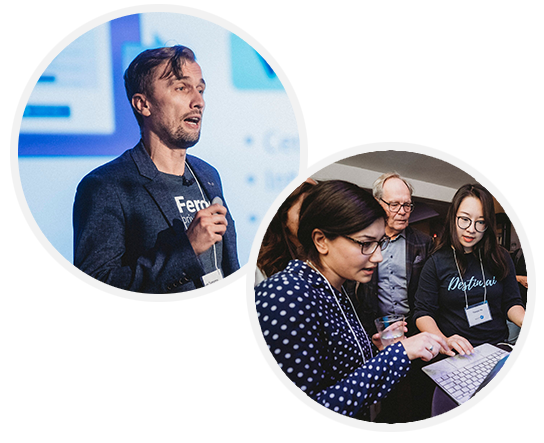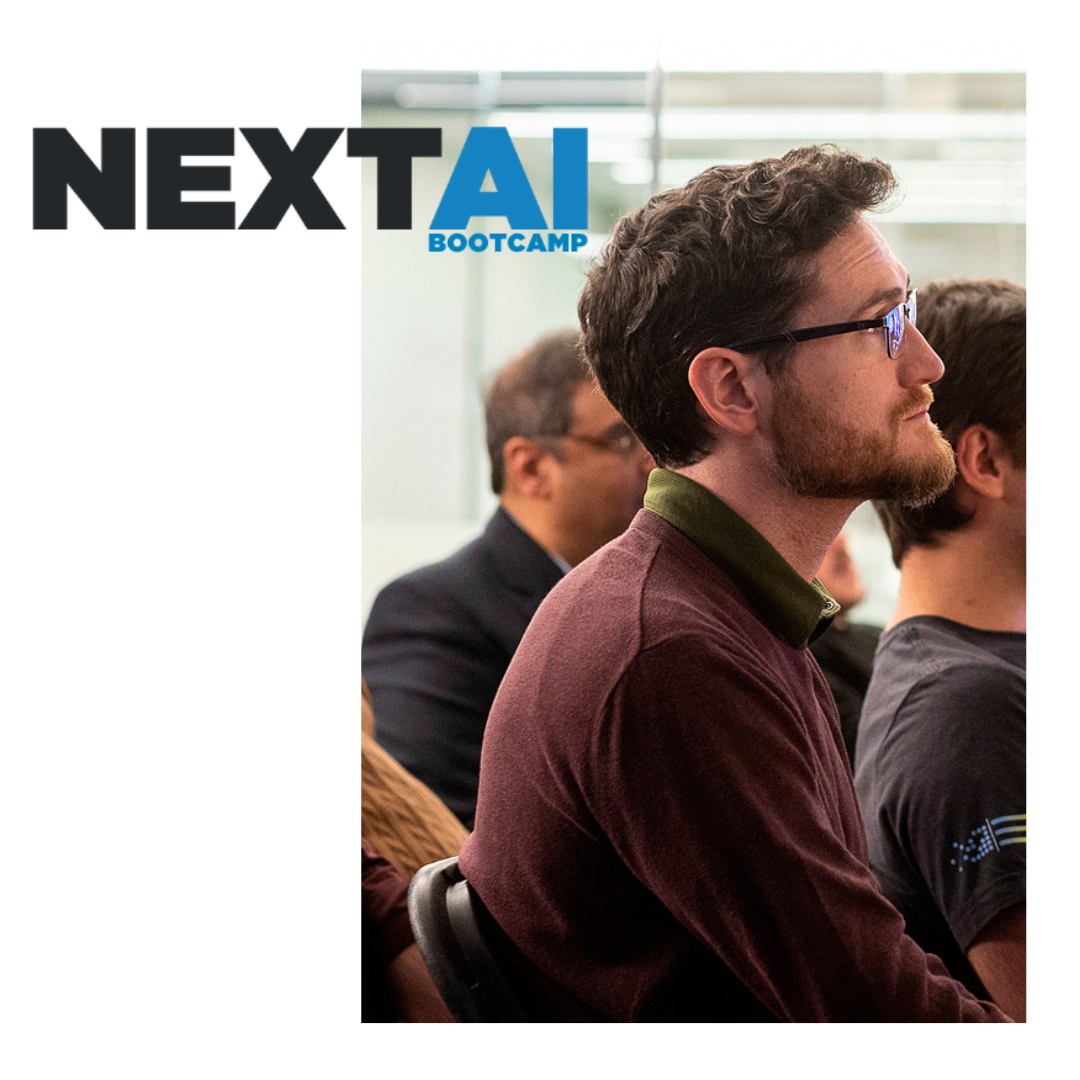 NEXT AI BOOTCAMP
FOR IDEATION / DISCOVERY STAGE STARTUPS
DEADLINE TO APPLY OCTOBER 15TH
In 4 weeks validate your AI business idea, get guidance from experts and join Canada's largest AI community
VALUE PROPOSITION
– Free access to office spaces
– Weekly venture manager office hour
– Weekly scientist in residence office hour
– Become a Next AI community member
– 5 workshops FREQUENTLY ASKED QUESTIONS
See below for a list of commonly asked questions about the program. If you still have Qs, contact us. Or, book a meeting with one of our Alumni Venture Managers here.
Eligibility and Application
I am not a Canadian citizen or permanent resident, can I still apply?
Next AI is currently only available to Canadian companies, owned in majority by Canadian citizens and permanent residents.
Can Next AI help me with my Start-Up Visa?
No, at this time, Next AI does not support international applicants.
Who are our founders?
Our future founders are applicants of any age, gender, gender expression, sexual orientation, members of cultural and ethnic communities, and any academic background. They will surprise us with their solution, passion, and entrepreneurial AI skills. Each participant in the program must have or intend to have, a minimum of 10% of equity in the company.
What are the team requirements?
An ideal team would have at least two participants, a CEO and CTO. In all cases, the team should display convincing strength in three areas: technical skills, business acumen and subject matter expertise.
What are the venture requirements?
The program is designed for early-stage/pre-seed ventures. Our ideal candidate is a team that found a problem-solution fit and has a prototype and early traction in the form of a pilot, early revenue or funding. We also welcome idea-stage projects  with strong technology differentiation.
Can I get into the program as a Solo Founder?
You are much less likely to be accepted to the program as a Solo Founder. Since our program is structured to accelerate the development of both the technical and business sides of the venture, we typically look for ventures with a strong business lead and a strong technical lead.
Should I apply for the technical or business stream?
Each team must have at least one technical stream founder with a basic understanding of AI-related technologies, including machine learning and data analysis. Founders should also possess problem-solving abilities and be able to communicate their ideas effectively to both technical and non-technical stakeholders. Additionally, they should demonstrate a willingness to learn and adapt to new technologies and approaches, as well as a passion for AI and its potential impact.
Applicants not meeting these criteria should apply to the business stream.
Program Details
What are the costs to participate in the program?
There is no cost to participate in Next AI.
What is the time commitment?
Participants should be prepared to commit 5 to 10 hours a week on mandatory programming and deliverables, while advancing their venture at a rapid pace.  A high commitment to the program and the venture is encouraged, in order to benefit fully from the community, services and opportunities provided.
Can I continue to work at my job while I participate in the program?
Yes, participants are allowed to continue employment on a part-time basis. However, employment will not be considered a valid justification for missing any mandatory programming, which generally occurs within business hours. As such, participants who choose to continue employment must have very high flexibility with their work schedule and take steps to reduce as much as possible the number of hours worked.
Do I have to be in Toronto or Montréal to participate?
No. You may follow the program and benefit fully from the services of Next AI from anywhere in Canada.  However, most social events will take place in person in either of those locations and you are encouraged to spend time as much time as possible in those cities to increase immersion and strengthen your networks. 
Furthermore, all Participant co-founders will be required to attend, in-person and at their own cost, three specific milestone events, namely: Immersion week in Montreal, Venture Reveal in Toronto and Venture Day in Montreal.
What language is Next AI delivered in?
The official working language for Next AI is English. However, participants can be served, and submit their business material, in either French and in English.
Funding and IP
Who owns the intellectual property developed within the Next AI program?
IP created during the Next AI program belongs to the venture and should be assigned as such.
My university owns part of my IP through my Ph.D. research. Am I eligible to apply to Next AI?
All IP used by the team within their venture has to either be owned by the venture or the company needs a license to use it.
Do you take any equity or provide funding?
No. The program does not take any equity in the ventures, and does not provide any funding.  However, ventures will be exposed to a powerful network of angels, VCs and other investors from across North America. Many ventures have secured funding through the Next AI investor network.