Former Chairman & President, George Weston Ltd.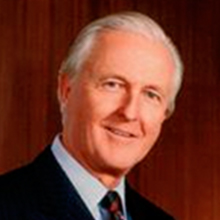 Bio
Galen Weston was one of Canada's best-known entrepreneurs and philanthroptists with a remarkable career that spanned four countries and five decades.
Born in Buckinghamshire, UK, Mr. Weston moved to Ireland in the early 1960s to set up a grocery store and begin his career. One store led to another, and soon he owned and operated a supermarket chain with locations all over Ireland, as well as a chain of discount stores. With his wife Hilary by his side, he also ran a luxury department store in Ireland.
In the early 1970s, when it appeared that his family's Canadian supermarket chain, Loblaw, was headed for bankruptcy, Mr. Weston was called upon by his father to help. After returning to Canada, Mr. Weston was appointed CEO of Loblaw Companies in 1972. Three years later, he was also appointed Chairman of George Weston Limited, a food processing and distribution company founded by his grandfather in1882.
Over more than forty years of hard work and team effort, Mr. Weston led the transformation of Loblaw from near-bankruptcy into what is now Canada's leading retailer—including the creation of President's Choice, the launch of PC Financial and the acquisition of Shoppers Drug Mart.
At the same time, Mr. Weston brought his vision, imagination and energy to creating Selfridges Group, a selection of iconic department stores including Brown Thomas, Arnotts, Holt Renfrew, Ogilvy, Selfridges and Bijendorf.
He also had a keen eye for real estate, launching Choice Properties, Canada's leading real estate investment trust, as well as transforming the Oxford Street neighbourhood surrounding Selfridges' London store.
Mr. Weston's lifelong commitment to philanthropy was realized through his long-time role at the Weston Family Foundation, his family's charitable initiative created by his mother and father in the late 1950s. Now one of Canada's largest private family foundations, it is dedicated to improving the well-being of Canadians. He remained Chairman and President Emeritus until his death in April  2021.
He leaves behind his wife, The Honourable Hilary Weston, the 26th Lieutenant Governor of Ontario and his two children, Alannah and Galen, and four grandchildren.