Founder and CEO, ELM Performance Group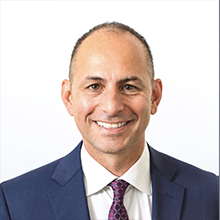 Bio
Tony Valle is a vision & purpose driven entrepreneurial leader and has honed his executive expertise in rapidly changing, regulated and complex business environments. He has consistently built business value by connecting sound long-term strategy to organizational design and health, talent growth, and trust-based performance culture. His roles have enabled him to become a leading North American practitioner on the development and scaling of results-oriented entrepreneurs and leaders.
Tony's business career began as a 19-year-old running a College Pro (CP) franchise, a system he would eventually run as its CEO. During his 10 years as CEO, CP profitably started-up over 6000 units in different North American communities, who in turn employed 30,000+ workers, serviced greater than 500,000 customers, and completed $500 million in sales.
His two previous executive roles were key to the growth of CP's parent company, FirstService Brands, which is one of the largest multi-brand, home service franchising platforms in the world. During his tenure on the executive team, system sales doubled to over $1 Billion and earnings quadrupled to over $45 Million. Tony piloted and then led a key growth division responsible for over 25% of company earnings in which he and his team sourced, acquired, and operated company-owned franchise businesses. Prior to the operations role, he led and co-founded the executive Leadership Development Program, which helped develop high performance talent to lead portfolio companies.
He currently spends a portion of his time with ELM Performance Group, as the Founder and CEO, which serves leaders, executives and boards. ELM delivers customized strategic advisory services, using an agile performance design and talent acceleration approach to innovate, scale & grow businesses.
He has earned his directors' designation, ICD.D, through Rotman Business School, and holds his MBA from Ivey Business School. He is a member and Past Chair of Young Presidents Organization (YPO) in Toronto and has held leadership roles throughout his tenure. His board and advisory roles include Global Faces Direct as an independent director and the IFA Foundation Board as Chair.
Tony is a life-long learner, musician, cyclist, hockey player, community volunteer, travel enthusiast and burgeoning philanthropist. He lives in Toronto, Canada with his wife, who is an artist, and two young adult children.