Co-Founder and CEO, Ideal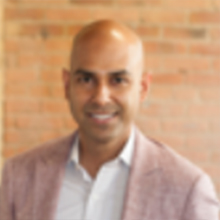 Bio
Somen is the Co-Founder and CEO of Ideal. Prior to Ideal, Somen served as Co-Founder and CEO of Field ID until it was successfully acquired in 2012 by Master Lock LLC (a subsidiary of Fortune Brands). As the CEO and Co-Founder of Field ID, Somen's leadership helped earn Field ID a spot on the Profit Hot 50 and Deloitte Fast 50. In 2012, Somen was named winner of the Ontario Ernst & Young Entrepreneur of the Year award.
Ideal's recruitment automation technology uses artificial intelligence to help Talent Acquisition professionals free up their time by automating tedious and monotonous tasks. Ideal is used by some of the largest employers in the world for high-volume hiring.
Somen holds a B.A.Sc. in Computer Engineering from the University of Toronto and an MBA from Queen's University. Somen sits on various advisory boards including the Smith School of Business at Queen's University, the Edward S. Rogers Sr. Department of Electrical and Computer Engineering at the University of Toronto, and the Ted Rogers School of Management at Ryerson University.