Vice-President, Power Corporation of Canada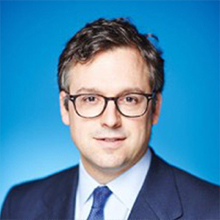 Bio
Paul Desmarais III is a Senior Vice-President of Power Corporation and Power Financial. He acts as Executive Chairman of Sagard Holdings and Portag3, Chairman of Wealthsimple and Peak Achievement Athletics, and Vice-Chairman of Imerys. He is also a director of Great-West Life, Investors Group, Mackenzie, Pargesa, Groupe Bruxelles Lambert, IntegraMed, and Personal Capital.
Before joining Power as Vice-President in May 2014, he was Assistant Vice-President in the Risk Management Group of Great-West Lifeco beginning in 2012. Previously, he worked in project management and corporate strategy at Imerys in France. He began his career in 2004, working for five years with Goldman Sachs in the United States, in the Investment Banking and Investment Strategy Groups, as well as in the Special Situations Group.
Mr. Desmarais is the Founder and Honorary Chairman of Young Canadians in Finance. He served as Co-Chair of the True Patriot Love 2014 Arctic Expedition to the Magnetic North Pole. Mr. Desmarais is the Chair of the Kenojuak Cultural Centre and Print Shop campaign.
Mr. Desmarais is the recipient of a Bachelor of Arts degree in Economics from Harvard College (graduating cum laude) and he holds a Master in Business Administration from INSEAD in France.