NEXT Canada Mid-Summer Updates
ALYANA SATCHU July 20, 2022
The summer has been a busy and exciting one so far. Just this month, our NEXT Canada team and founders have experienced an abundance of classes, events and workshops. The members of our Next AI, Next 36, and Next Founders program participants continue to be challenged personally and professionally as they expand their skillsets, supercharge their ambition, and scale their ventures. 
On June 30th, the Next Canada Team convened at The Oxley in Yorkville for a relaxing and sunny afternoon of just getting to know one another better. We were excited for the opportunity to bond in a non-professional setting and enjoyed refreshing drinks and delicious food. A highlight of the lunch was the informal trivia matches led by our Programs Lead, Mischa!
On July 6th, NEXT held an exclusive alumni Growth Event with discussions and a Q&A around legal strategies and considerations with David Jamieson (Partner, Emerging and High Growth Companies at Osler). The event was hosted by Lauren DeSouza (Next 36, 2020) from NEXT Canada's Alumni Advisory Council. 
Discussion Topics Covered:
How founders should find and select the right legal team to work with
Managing expectations and costs
Legalities during a fundraising round
Legal structures for business partnerships
Shareholder legalities 
Structuring subsidiaries or sister companies 
Dealing with warrants during an investment round
On July 7th, NEXT Canada held a social for the current cohort at our headquarters. Attendees enjoyed dinner, drinks and an opportunity to get to know one another in a relaxed atmosphere. Additionally, using the Disc method, we offered various activities to discover and explore one's leadership style. Attendees learned how to build and lead a successful team by recognizing and honing their leadership styles. In the event's second half, attendees were grouped into sections with the same leadership style to build structures with marshmallows and uncooked spaghetti; the goal was to create the highest and most aesthetically pleasing design. The event resulted in stimulating conversation, self-discovery and cohort-wide bonding. 
With half our students coming into the NEXT Canada office to use the co-working space and a number across the nation joining in via ZOOM, we are pleased to offer hybrid classes to the cohort. Reza Satchu has taught multiple Economics of Entrepreneurship classes from our NEXT Canada offices and has been able to integrate both in-person and virtual students into thoughtful discussions. NEXT Canada is excited to offer a more personal learning experience for the students as we look forward to working towards an entirely in-person class schedule again. 
July 11th, NEXT Canada's Programs department held a workshop focused on storytelling. The workshop was centred around the power of storytelling in entrepreneurship with an open-ended and interactive discussion on what makes a story strong and compelling. We began by exploring the history of storytelling among humans and how people often make decisions based on emotional responses to stimuli. We then discussed how stories tend to have a very similar structure: someone overcomes a challenge to learn something new about themselves or the world around them. Our Programs Consultant, Mischa Hamara, closed the workshop by explaining the impact of storytelling in pitching to investors. We are excited to keep the conversation going around how to give a valuable pitch that triggers an emotional connection between the product and the investor. 
July 13-15th, The NEXT Canada team joined the Next AI Montreal time in this year's sold-out Startupfest, which features startups from various verticals and growth stages looking to connect with investors for mentorship, networking, and potential funding. From Fintech to AI and seed round to series A, Startupfest brought diverse companies ready to meet investors. The festival has helped local entrepreneurs connect with world-class mentors and investors and has been the gateway to millions of dollars in business deals and investments made.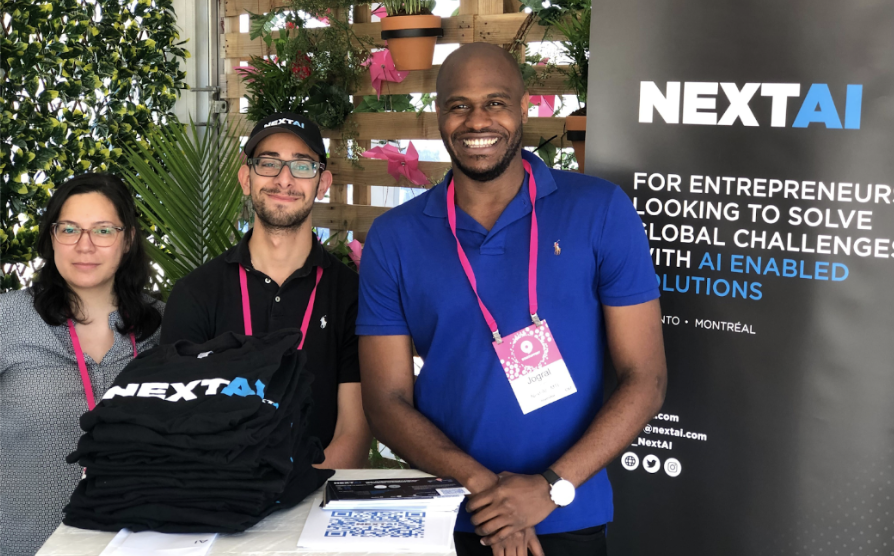 As July comes to a close, we look forward to more engaging classes, workshops, socials, townhall, and the release of our 9th edition of GRIT "Family Matters." GRIT Ed.9 highlights entrepreneurial stories that uniquely illustrate their definition of family when it comes to entrepreneurship, how the path of one's venture can create a new kind of family, legacies, determination, and business mindsets passed down, and all of the complexities inherent. 
Want to stay in the loop on all things NEXT Canada? Be the first to know about NEXT program updates, alumni news, application launches and upcoming events by subscribing to our newsletter HERE.