Collision Conference 2022 Review
ALYANA SATCHU June 27, 2022
The Collision Conference of 2022 was Canada's largest technology conference yet. With a speaker lineup of leading VCs, athletes, CEOs, and even a shark tank judge, attendees were exposed to all aspects of the technology ecosystem in Canada. The conference was empowering and educational, a commonplace that brought together entrepreneurs, specialists, world leaders and innovators. Collison After Hours in the Grand Bizarre, the Distillery District, and stackt market, allowed connections to be further explored and presented attendees with continued networking opportunities.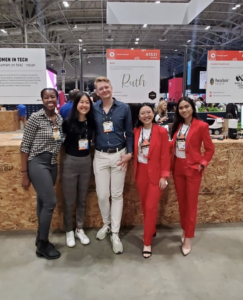 Day 1
Walking into Day 1 of Collision, the air was full of energy and excitement for the week ahead. Falling on National Indigenous Peoples Day, the Tuesday included numerous talks that shone a spotlight on Indigenous entrepreneurs and innovators across the country. Talks also focused on the history and future of innovation, the imbalance in power between VCs and start-ups, and the importance of equity compensation. A personal highlight of the first day was the appearance of robot-dog Spot, which was built by Boston Dynamics CEO Robert Playter, and could be spotted wandering around the conference. By the end of Day 1, enthusiasm was continuing to build, and attendees were looking forward to the days ahead.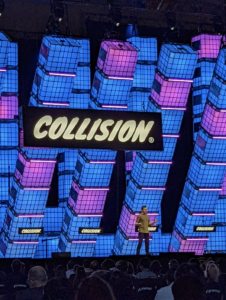 Day 2
By Day 2, the conference was in full swing. Featuring a brand new set of ventures, attendees were able to interact with founders from across the country, who worked in areas like ecommerce, social justice and fintech. An especially popular speaker on Wednesday was Garry Kasparov, chess grandmaster and Avast security ambassador, who took on ten participants from the audience in ten separate chess matches, victorious in them all. Kasparov also discussed the Russian invasion of Ukraine, and how the Free World can help Ukraine. Other interesting talks on the second day discussed how to be founder-friendly, overcome fundraising bias, and build customer engagements.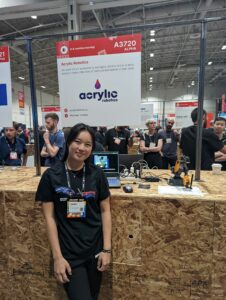 Day 3
By Day 3, attendees had a solid understanding of the types of events and talks that would interest and benefit them the most. A unique highlight of Day 3 was an up close and personal Q&A with the Brampton Batman, who emphasized the importance of standing up for issues that are important to us. However, most special to the NEXT Canada community was a Next AI venture, Dot, winning this year's PITCH competition. Chosen over 1500 other start-ups, Next AI 2019 alum Yishel Khan was successful in creating a name for her business, Dot, which reads and analyzed brainwaves using AI, to create specific therapies for individual customers. Her presence at the conference not only gave Yishel the opportunity to engage with future investors and partners but also allowed her to connect one-on-one with parents who wanted to purchase the Dot Headset for their children. 
Overall, the 2022 Collision Conference had a very successful return after a two-year absence. Technological experts, pop culture idols, and politicians shared their knowledge in the form of masterclasses, Q&A sessions and speeches, as guests could relax in lounges, meet in conference rooms or sit in the audience and take it all in. At NEXT Canada, we are already looking forward to Collision 2023 and are proud of all of our community's accomplishments this year! Message us directly on Instagram at @NEXT_Canada and let us know how your experience at the conference was!
We want to give a special shoutout to our Pillar Supporter, EY for generously providing some of our founders with Women in Tech tickets: 
Thank you to EY!