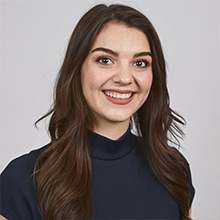 Bio
Cat is the CEO and Co-founder of Win-Win Homesharing, a social impact venture that empowers seniors to maintain their independence, creates affordable housing for all generations and brings together a community that cares.
She aspires to inspire others to live wholeheartedly and believes the chaotic journey of entrepreneurship is an incredible way to get there. She's previously been recognized for her community work by the Mayor of Ottawa, the Cabinet Minister of the Environment, the Honourable Catherine McKenna, and past M.P.P. for Ottawa Centre, Yasir Naqvi. She's also placed first at Ottawa's Techstars Startup Weekend in 2018, and most recently, was nominated for 2019's Emerging Entrepreneur by the For-Entrepreneurs-By-Entrepreneurs (FEBE) Awards.
After a whirlwind experience at NEXT, Cat's grateful for everyone who helped her take her first steps into entrepreneurship and is ecstatic to pass it forward to the next generation of self-starting change-makers. When she's not Win-Winning, she's usually quoting Oprah, writing unfinished novels, or day-dreaming about moving to the Yukon.