A Canadian-Born Anti-Racism Initiative Goes Global

Wes Hall, founder of the BlackNorth Initiative, and Reza Satchu, Founding Chairman of NEXT Canada, bring anti-racism education to Harvard – inspired by the courage of one young entrepreneur.
TORONTO, Nov. 25, 2020 /CNW/ – Wes Hall, Executive Chairman of Kingsdale Advisors, and founder of the BlackNorth Initiative, has just been featured in a new Harvard Business School case study. That's a rare honour that few leaders in Canada have achieved, and one that positions anti-racism at the core of the business learning agenda. The case, titled "Wes Hall and the BlackNorth Initiative", is co-authored by Reza Satchu, recently appointed Harvard Business School Senior Lecturer. After Mr. Hall shared his personal journey with this year's NEXT Canada entrepreneurs, Satchu was inspired to help turn the Black North Initiative into an educational tool and seek out an international audience for important anti-Black racism business practices. With HBS cases comprising the majority of the case-based curriculum at many business schools around the globe, the impact of Hall's initiative, focussed on dismantling systemic anti-Black racism at every layer of the corporate world, will impact thousands of business leaders for many years to come.
Satchu, who has taught entrepreneurship for more than 15 years, credits Aileen Agada, a recent graduate of the Next 36 accelerator program, for inspiring him to write the case after she called on him to better utilize his position to affect change, unlocking a chain of events that would bring Hall to the NEXT Canada classroom. The case chronicles Hall's personal experience with discrimination and the obstacles that he overcame to build a successful business, as well as the issues he faces in scaling the BlackNorth Initiative. Overall, the case builds a powerful argument for the importance of anti-racism practices in the business community.
"The BlackNorth Initiative challenges Canadian businesses to take a business-centric approach to identifying and addressing systemic anti-Black racism. Ultimately, it will create better representation for Black Canadians and an overall improvement in their prosperity and quality of life. Though there is hard work ahead, I want the BlackNorth Initiative to be seen as a symbol of hope – inspiring action amongst all Canadians," explains Wes Hall. "To see our initiative featured in a prominent case study at one of the world's most prestigious business schools is an important milestone on our journey. This is a powerful way to ensure we're talking about anti-racism globally – including shaping the actions of future business leaders around the world."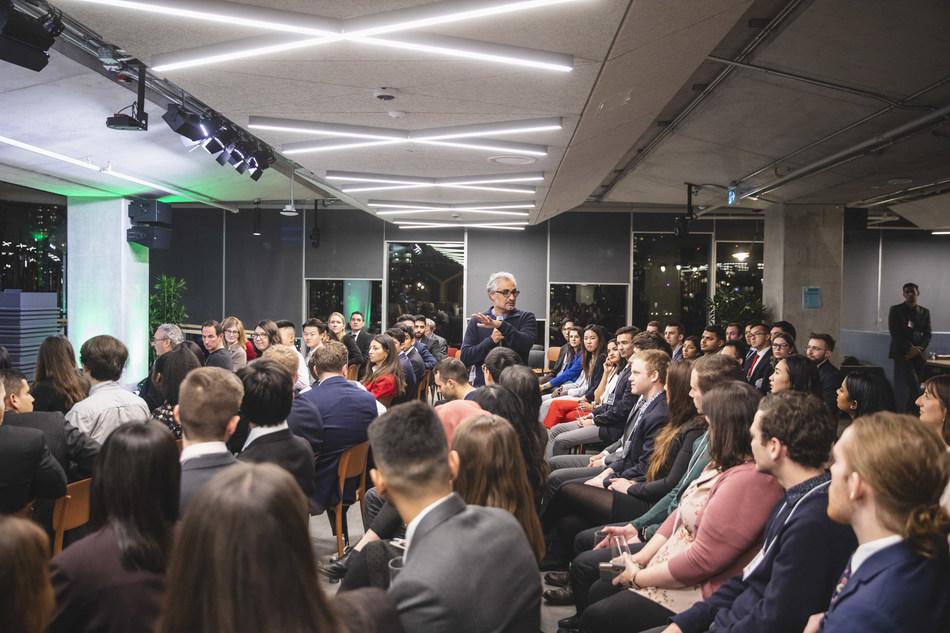 Reza Satchu speaking with young entrepreneurs last November at Shopify HQ.