MEET THE 2021 COHORT
Every year, NEXT Canada recruits some of the country's highest potential entrepreneurs from coast to coast. Over the course of eight months, we give these founders all the tools they need to create game-changing, homegrown ventures with global potential. Thanks to our blend of real-world education, globally recognized faculty, and mentorship from top Canadian CEOs, our entrepreneurs go from ideation to launch and beyond within just eight months.
For the second year in a row, our program is being delivered in a fully virtual environment. While we miss having the energy of the entrepreneurs in our co-working space, this new format has allowed us to bring in even more incredible guest speakers, mentors, and leaders into our (virtual) classroom. We can't wait to see what our 2021 cohorts will accomplish.
Read on to discover our 2021 cohorts or jump to meet our ventures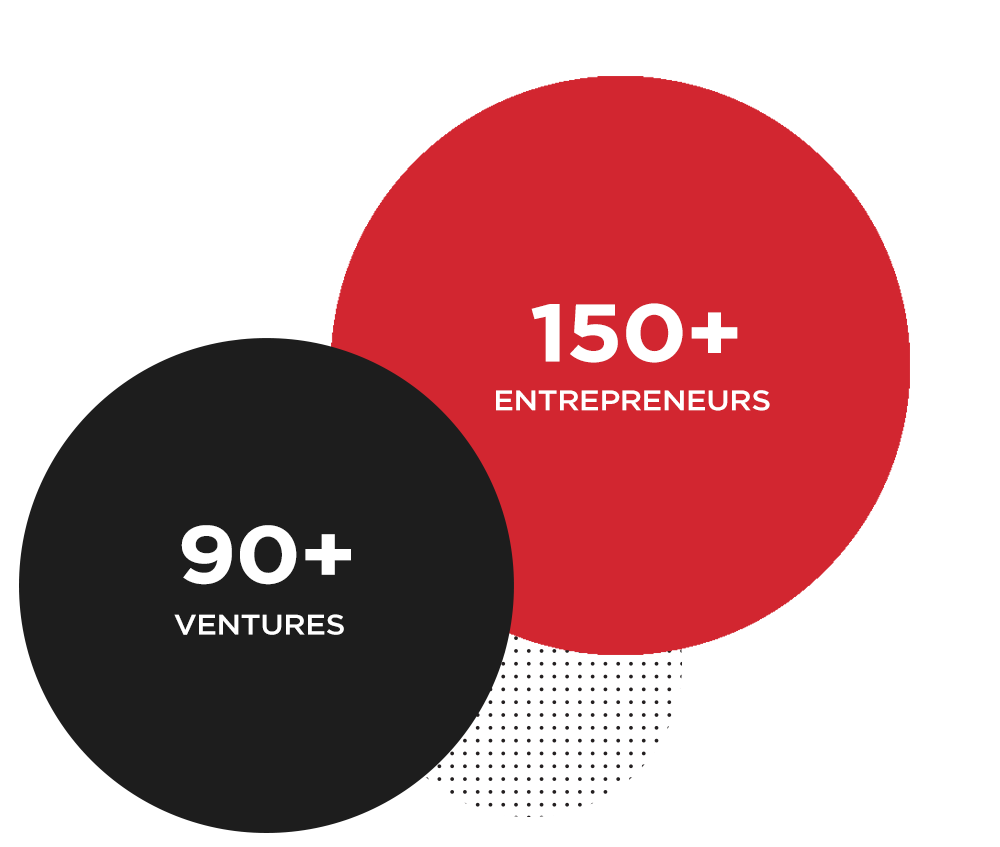 INDUSTRIES
Our 2021 entrepreneurs are tackling global problems in industries including:

Education

Health Care

Data Management

Consumer Packaged Goods

Wellness

Construction

Social Impact

Professional Services

PROGRAM TIMELINE
Discover the journey our founders are embarking upon as part of the 2021 cohort

Andalusia Speech Therapy
Founder: Ibtissam Mustaq
Andalusia Speech Therapy provides effective and accessible speech therapy services to children and adults with communication disorders (i.e. articulation, stuttering, stroke rehab, dyslexia, public speaking, autism, and more). We provide in-person therapy at our 4 Ontario clinics and online therapy to anywhere in the world.
Arextech
Founder: Miguel Linera Alperi
Arextech creates digital collaborative workspaces that allow buyers and sellers to streamline real estate management and transaction processes. Our vision is to become the global platform for transacting real estate by accelerating the transition to a fully digital industry.
Daily Blends
Founder: Shriya Gupta
Daily Blends builds and operates a data-driven network of smart fridges offering accessible and affordable fresh, healthy meals. Daily Blends is on a mission to make freshly-prepared, chef-curated meals as accessible as a can of soda!
Everipe
Founder: Kerry Roberts
Everipe Superfood Smoothie Kits make it possible to create a real fruit smoothie – from your pantry. Our fruits are picked at peak vitality and freeze-dried to lock in nutrition and taste. All you have to do is add ice and water, blend, and you're superfood sipping.
Future Fertility
Founder: Alex Krivoi
Future Fertility is the only company worldwide to develop a cloud-based AI software that can calculate the quality of a human egg (oocyte) based on a 2D image. The current status in the area of Artificial Reproductive Technology is that sperm assessment is a standard – and Future Fertility intents to make egg assessment a standard as well. There is an urgent need to personalize diagnostics and treatment which is only possible having transparency about the egg quality. Future Fertility offers IVF clinics to download comprehensive reports about the egg quality of their patients if they uploaded pictures of their patients oocytes.
hungerhub
Founder: Sari Abdo
hungerhub is a meal delivery solution for offices and the workplace. Providing both the technology to place orders as well as the logistics to manage deliveries, hungerhub connects offices and allows their employees to place orders individually and from their favourite local restaurants to provide customized, individually packaged and sealed meals delivered to their desks.
Node
Founder: Armin Faraji
Node is a private platform that lets brands turn their inventory into photos and videos. The Node mobile app is a gifting marketplace that rewards influencers and photographers with complimentary products in exchange for creating social media posts. Over 100+ brands are currently using Node for content creation. The team is backed by alumni from Shopify, Shutterstock, Bain & Capital and Udemy, among others.
Nyoka Design Labs
Founder: Paige Whitehead
Nyoka Design Labs develops better, biodegradable, non-toxic, clean-tech alternatives to common materials used every day, starting with one of the most toxic single-use items in the world – the glow stick. We plan on building towards a circular economy model, are en route to becoming a B-Corp, and have some incredible research and manufacturing partners that make everything possible!
Partake Brewing
Founder: Ted Fleming
Partake Brewing is a non-alcoholic craft beer brand that focuses on flavour, health, socializing and inclusivity for people who don't (or can't) drink alcohol.
Ryna
Founders: KD Dao; Sheryl Song
Ryna is building a home rental platform that improves how women live by partnering with reputable landlords, matching suitable roommates and hosting community events.
Scope
Founder: Holden Beggs
Scope is revolutionizing how you capture photos with their novel lens technology. Scope Photonics is an internationally award-winning start-up founded by five nanotechnology engineers. Their lens product has a multi-billion dollar market potential that spans several industries and is solving a problem that's hobbled camera technology for centuries. Scope has secured LOIs, are filing patents, and are moving quickly towards betas this summer and revenue later this year.
ThisFish Inc.
Founder: Eric Enno Tamm
ThisFish Inc. is a global leader in seafood traceability software and artificial intelligence that enables seafood processors to digitize all their workflows in real-time on the factory using tablets and IoT devices. Our mission is to drive profitability and sustainability in seafood supply chains through better data: digital, real-time, accurate.
UP360
Founder: Harrison Olajos
UP360 is modernizing the way we educate and train the workforce of tomorrow. We create hands-on virtual reality-based learning experiences that are fun, memorable & inspirational. From the design & development of simulations to the distribution and support of the hardware to power them, UP360 is a leader in immersive learning technologies and the starting point for any organization that wants to use virtual reality for learning.
Wavy
Founder: Shawn Hewat
Wavy hosts online experiences for team events, client entertainment, and conferences. They work with experts to curate experiences across food & drink, wellness, arts, games, and entertainment and have a platform that makes attending online events easy and exciting. Wavy's mission is to help teams build a remote company culture that's just as good (or better) than an in-person one.
WFHomie
Founder: Pavla Bobosikova
WFHomie is the employee engagement and culture-building platform for remote teams. We are building the end-to-end platform for all things employee engagement including employee lifetime appreciation (from onboarding, work anniversaries, rewards and recognition to farewell), employee growth (learning and development), health and wellness, and fun social experiences.