Chair of Exec. Committee, Power Corporation of Canada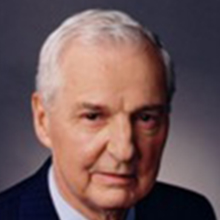 Bio
Mr. Desmarais was born January 4, 1927, in Sudbury, Ontario, Canada.
Mr. Desmarais obtained his Bachelor of Commerce degree from the University of Ottawa. He holds several honorary degrees and distinctions from Canadian universities.
After his studies, Mr. Desmarais returned to Sudbury where, in 1951, he purchased control of Sudbury Coppercliff Street Railway. In 1959, he formed Transportation Management Corporation Limited which in 1960 purchased Provincial Transport Limited. In 1962, through Transportation Management, he obtained effective control of Gelco Enterprises Limited and, in 1963, purchased The Imperial Life Assurance Company of Canada. In 1965, he bought his first conglomerate, Trans-Canada Corporation fund. In 1967, Trans-Canada Corporation Fund formed Les Journaux Trans-Canada Ltée which, in 1968, purchased the major French-language newspaper La Presse (Montréal). In 1968, he acquired control of Power Corporation of Canada. Today, Power Corporation includes Gesca Ltée, which publishes La Presse and other daily and weekly newspapers; and Power Financial Corporation, which owns The Great-West Life Assurance Company, London Life Insurance Company, The Canada Life Assurance Company, Putnam Investments Trust, IGM Financial Inc., Investors Group Inc., Mackenzie Inc. and Pargesa Holding S.A., an international investment group based in Geneva. The Pargesa Group controls Imerys, is the largest single shareholder in Total and also has important investments in Suez, Lafarge and Pernod Ricard.
Mr. Desmarais is Chairman of the Executive Committee of Power Corporation of Canada. He is also Chairman of the Board and Managing Director of Pargesa Holding S.A. (Switzerland). He is Director Emeritus of Great-West Lifeco Inc. and IGM Financial Inc., and holds directorships in the following corporations: Gesca Ltée, Groupe Bruxelles Lambert S.A., Pargesa Holding S.A., Power Corporation of Canada, Power Financial Corporation and La Presse, Ltée.
Mr. Desmarais is Founding Chairman of the Canada-China business Council. He is a member of the Queen's Privy Council for Canada, a Companion of the Order of Canada, a Member of the National Order of Québec, as well as "Grand'Croix de l'Ordre national de la Légion d'Honneur" and "Commandeur de l'Ordre de Léopold II"