Former Chair of Exec. Committee, Power Corporation of Canada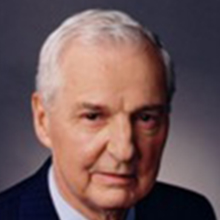 Bio
Born in Sudbury, Ontario, on January 4, 1927, to Jean-Noël and Lébéa Desmarais, Mr. Desmarais studied commerce at the University of Ottawa and law at the Osgoode Hall until taking on the challenge of rescuing his family's failing bus company. A visionary entrepreneur, he merged it into Quebec Autobus, Provincial Transport and Trans-Canada Corporation Fund 
In 1962, through Transportation Management, he obtained effective control of Gelco Enterprises Limited and, in 1963, purchased The Imperial Life Assurance Company of Canada. In 1965, he bought his first conglomerate, Trans-Canada Corporation fund. In 1967, Trans-Canada Corporation Fund formed Les Journaux Trans-Canada Ltée which, in 1968, purchased the major French-language newspaper La Presse (Montréal). In 1968, he acquired control of Power Corporation of Canada. Today, Power Corporation includes Gesca Ltée, which publishes La Presse and other daily and weekly newspapers; and Power Financial Corporation, which owns The Great-West Life Assurance Company, London Life Insurance Company, The Canada Life Assurance Company, Putnam Investments Trust, IGM Financial Inc., Investors Group Inc., Mackenzie Inc. and Pargesa Holding S.A., an international investment group based in Geneva. The Pargesa Group controls Imerys, is the largest single shareholder in Total and also has important investments in Suez, Lafarge and Pernod Ricard.
In his later life, Mr. Desmarais was the Chairman of the Executive Committee of Power Corporation of Canada. He was also Chairman of the Board and Managing Director of Pargesa Holding S.A. (Switzerland), the Director Emeritus of Great-West Lifeco Inc. and IGM Financial Inc., and held directorships in the following corporations: Gesca Ltée, Groupe Bruxelles Lambert S.A., Pargesa Holding S.A., Power Corporation of Canada, Power Financial Corporation and La Presse, Ltée.
Mr. Desmarais was a philanthropist, making substantial contributions (many anonymously) to the arts, education, health and the homeless. At the time of Mr. Desmarais' death, Prime Minister Stephen Harper said in a statement that Desmarais was "one of Canada's most successful businessmen" and will be remembered for his leadership, his philanthropy and community involvement as well as his "profound attachment to his country." Many institutions, which benefited from Desmarais' contributions also paid tribute to the business man. These include McGill University "He was someone who felt an obligation to contribute to our broader society in many different ways and we were all the richer for that."
Mr. Desmarais was awarded numerous decorations and was appointed to orders of merit from Canada, France and Belgium. He was made a Grand Montréalais (1984), a Companion of the Order of Canada (1987), an Officer of the ordre national du Québec (1988), a Commander of the Ordre de Léopold II (1991) and Grand Croix de l'Ordre national de la Légion d'honneur (2008). In 1992, he became a member of the Privy Council of Canada. In 2007, he was the recipient of the University of Ottawa's Distinguished Canadian Leadership Award. A dozen Canadian universities bestowed Desmarais with honorary degrees.
After a lifetime committed to building a united and prosperous Canada through business and philanthropy, Mr Desmarais passed away in 2013.