We are seeking new talents
We are currently in a recruitment phase to find the new talents who will be part of the upcoming cohorts of Next AI Bootcamp and the Next AI 2024 Program.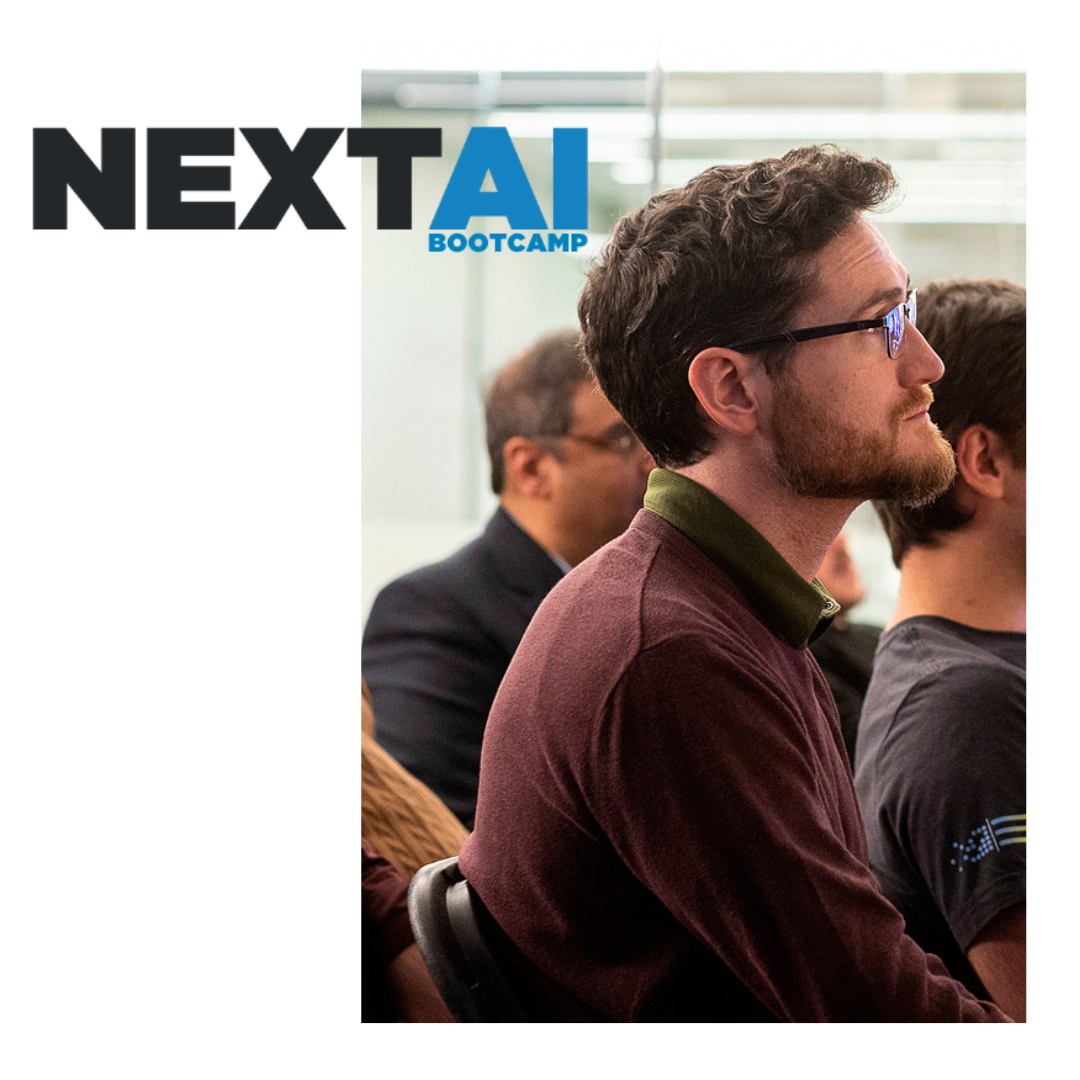 NEXT AI BOOTCAMP
FOR IDEATION / DISCOVERY STAGE STARTUPS
DEADLINE TO APPLY OCTOBER 15TH
In 4 weeks validate your AI business idea, get guidance from experts and join Canada's largest AI community
VALUE PROPOSITION
– Free access to office spaces
– Weekly venture manager office hour
– Weekly scientist in residence office hour
– Become a Next AI community member
– 5 workshops
NEXT AI 2024 PROGRAM
FOR VALIDATION/ DISCOVERY/ EFFICIENCY STARTUPS
APPLICATION PERIOD COMING SOON
Get ready to apply to the Next AI 2024 program
VALUE PROPOSITION
– World-class curriculum taught by award-winning faculty 
– Access to top AI scientists and Venture Managers
– Access to an international pool of Mentors and Investors
– High impact Workshops and Speaker Series
– Free office space in Toronto and in the heart of Montreal's AI hub
And more…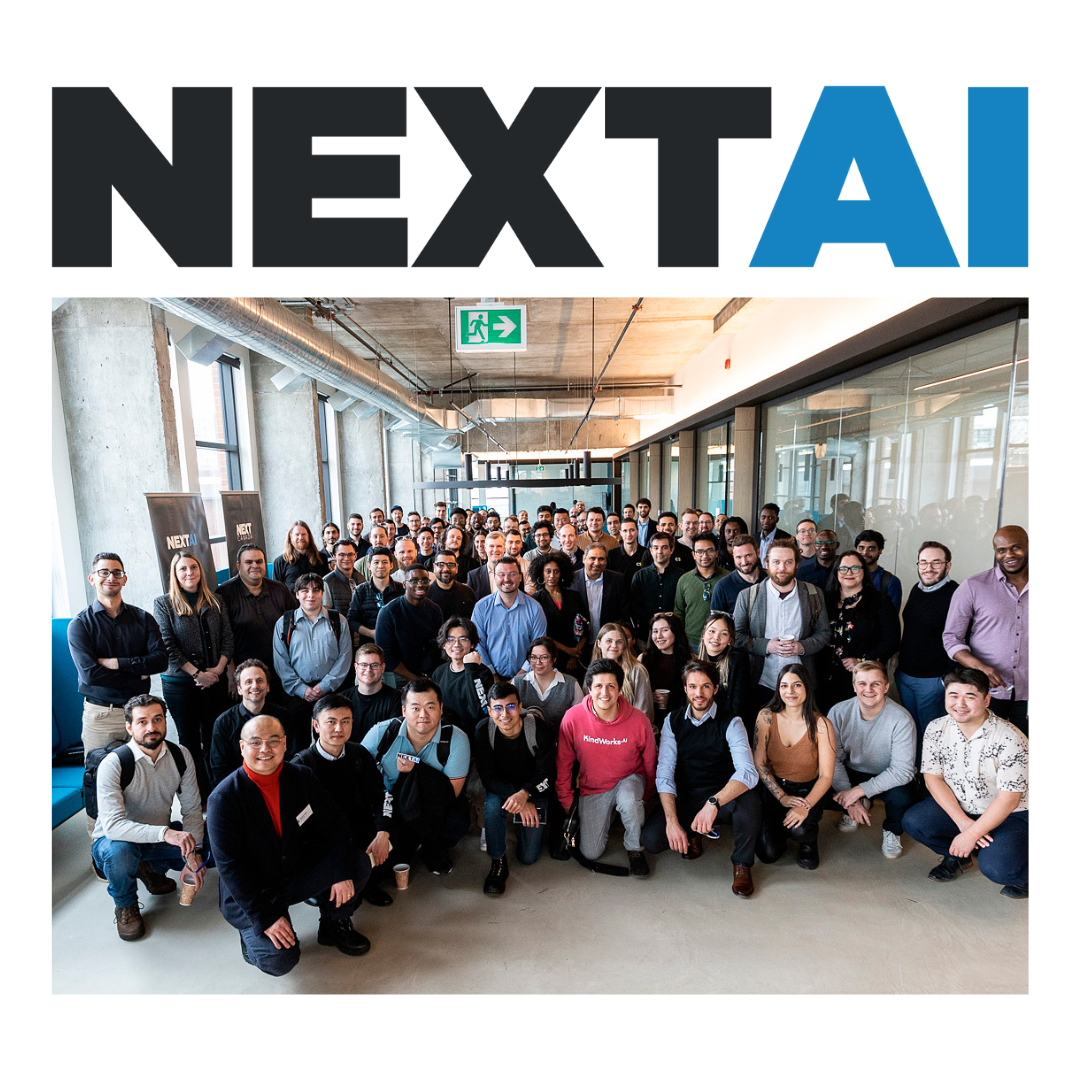 FOR ENTREPRENEURS LOOKING TO SOLVE GLOBAL CHALLENGES WITH AI-ENABLED SOLUTIONS.
Next AI is a world-class founder and venture development acceleration network for AI-enabled startups. Founders can participate from anywhere in Canada, following the program remotely or in-person from the Toronto or Montreal sites. Leveraging a renowned ecosystem of AI and business experts, Next AI provides support on both AI product development and market commercialization. Each year, Next AI identifies the top early-stage teams developing ambitious AI-powered solutions and provides them with the mentorship, education, and network to have a global impact.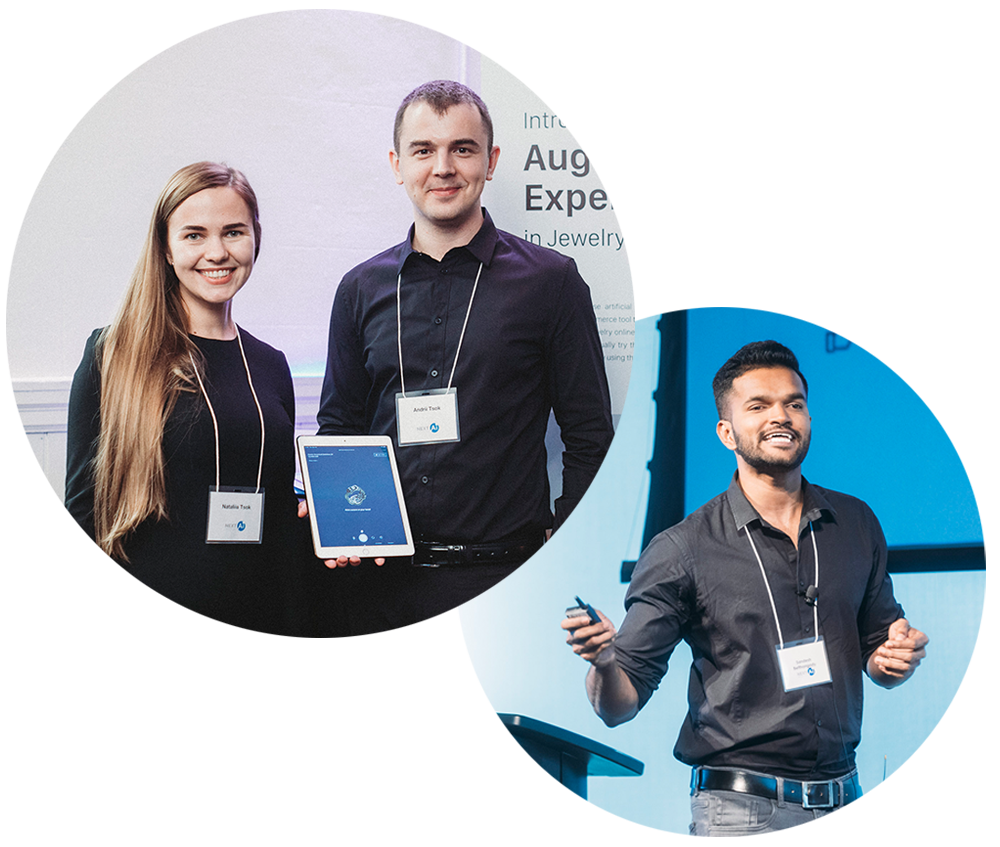 Introducing The Next AI 2023 Cohort
This year's Next AI cohort boasts 94 founders leading 44 ventures across a diverse range of industries, including Life Sciences & Advanced Health, Enterprise Software, Art, Digital Media & Telecommunications, Financial Services, Advanced Materials & Manufacturing, Retail Consumer, Human Resources, Clean Tech, E-commerce, Security, Mining, Oil & Gas, Transportation, Tourism, Culture & Entertainment, and Proptech.

World-class curriculum taught by award-winning faculty 

Access to top AI scientists and Venture Managers

High impact Workshops and Speaker Series


Access to $1MM+ of perks from leading AI technologies and legal assistance through in-kind partners like NVIDIA, AWS and Osler

Free office space in both Toronto and in the heart of Montreal's AI hub

Access to an international pool of Mentors and Investors WHAT YOU'LL LEARN
Next AI provides a hot spring of local talent, global experts, and top-tier researchers. Over the course of the program, entrepreneurs will receive invaluable technical and business education from a community of Canadians and world-renowned leaders, including:
MARK YOUR CALENDAR

Applications Open
October 15, 2023

Deadline To Apply
December 10, 2023

Program Runs
March - August 2024

PHASE ONE
The program's first phase consists of common-track and 1-1 support, offered both in-person and virtually, to upskill founders and strengthen the foundations of their ventures. Founders receive instruction from internationally acclaimed faculty and Canadian business leaders and get introduced to devoted mentors, Venture Managers and scientists-in-residence. With support from legal and accounting partners, they organize their venture to be investor-ready and consolidate their product roadmap.
By the end of phase 1, founders are ready to validate their offering on the market and accelerate the growth of their project.
PHASE TWO
Phase two sees entrepreneurs being exposed to learnings from top business leaders and accelerating their product development. Mandatory programming is reduced, allowing entrepreneurs to focus on customers while receiving support from Venture Managers and mentors. Towards the end of phase two, Ventures receive extensive training to improve their pitches before being introduced to a select group of investors interested in early-stage AI ventures.
Next AI – 1-1 support complemented by lessons from industry leaders, while Founders focus on product growth, market validation and capital acquisition.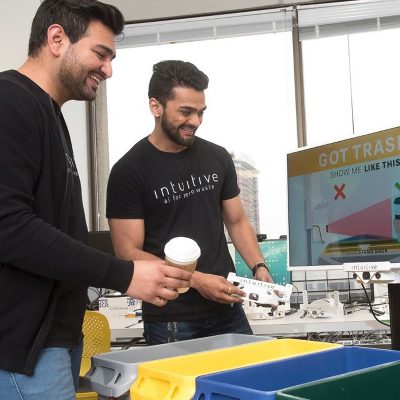 Oscar by Intuitive is a smart garbage detection system that uses computer vision and machine learning to nudge users to sort their waste in the correct bin.
"I expected Next AI to be the best incubator in Toronto, but it turned out to be the best in the world. A lot of incubators focus on company development and networking, which Next AI does very aggressively. However, other incubators often forget the most vital element that drives the company to be successful: the founder."
– Hassan Murad, Co-founder, Intuitive Inc. (Next AI, 2017)
Next AI accepts idea or early-stage ventures that are passionate about solving global problems by leveraging the power of AI. We are looking for exceptional teams committed to building and executing powerful AI-enabled solutions that meet the Next AI 6 requirements:
TEAM
1. Minimum of one technical co-founder (+10% equity)
2. A full-time commitment to the program at the office 
3. A coachable team with deep technical expertise and/or industry insight
4. Tangible validation proof of a scalable business model
5. AI is core to the venture
6. Canadian company and or registered in the province of Quebec (Next AI – Montréal)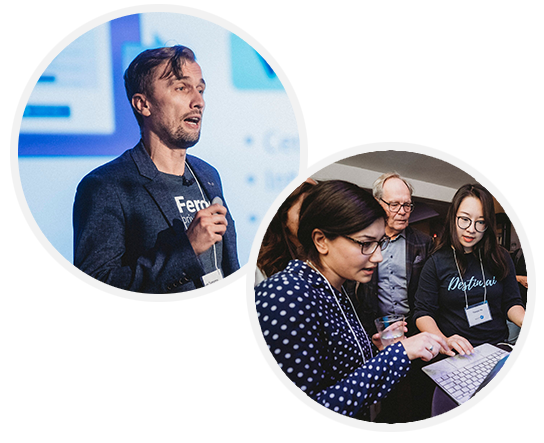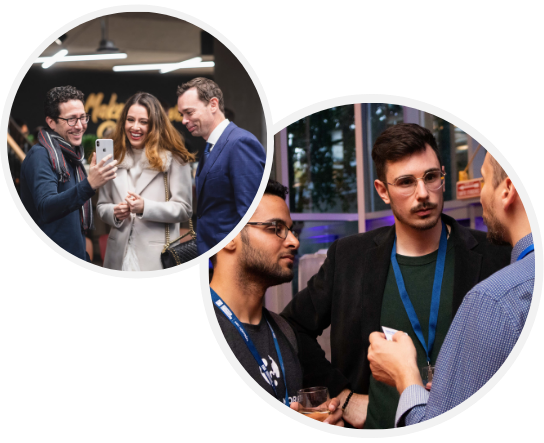 TALENT PLATFORM
The Next AI founder and project database is an initiative designed to help founders find talent and accelerate the creation of Canadian AI startups.
While the platform is a perfect tool to build/strengthen startups applying for the Next AI program, this use is not exclusive. In other words, you are welcome to participate in the platform even if you do not intend to apply in 2023. FREQUENTLY ASKED QUESTIONS
See below for a list of commonly asked questions about the program. If you still have Qs, contact us. Or, book a meeting with one of our Alumni Ambassadors here.
Eligibility and Application
I am not a Canadian citizen or permanent resident, can I still apply?
Unfortunately not. However, if you intend to begin the process of applying for permanent resident status or are already in the process of doing so, we will accept a statement to this effect. If you intend to provide a statement to this effect, please contact us before submitting your application.
Can Next AI help me with my Start-Up Visa?
No, at this time, Next AI does not support international applicants.
Who are our future founders?
Our future founders are applicants of any age, gender, gender expression, sexual orientation, members of cultural and ethnic communities, and any academic background. They will surprise us with their solution, passion, and entrepreneurial AI skills. Each participant in the program must have or intend to have, a minimum of 10% of equity in the company.
What are the team requirements?
An ideal team would have at least two participants, a CEO and CTO. In all cases, the team should display convincing strength in three areas: technical skills, business acumen and subject matter expertise.
What are the venture requirements?
The program is designed for early-stage/pre-seed ventures. Our ideal candidate is a team that found a problem-solution fit and has a prototype and early traction in the form of a pilot, early revenue or funding. We will consider ideas with high-impact potential.
I have a great idea, how do I find a team?
You can use the Talent Platform to connect with like-minded peers to build your co-founding team.
Can I get into the program as a Solo Founder?
You are much less likely to be accepted to the program as a Solo Founder. Since our program is structured to accelerate the development of both the technical and business sides of the venture, we typically look for ventures with a strong business lead and a strong technical lead. If you are looking to grow your co-founding team, visit the Talent Platform.
My venture already has equity funding. Am I eligible for Next AI?
Each application will be reviewed on a case-by-case basis. Contact us to learn more.
Should I apply for the technical or business stream?
Each team must have at least one technical stream founder with deep knowledge or experience in an AI-related field through education or work. Evidence of this knowledge is submitted as part of the application through your resume, GitHub, publications, etc. Technical applicants should have a solid foundation in probability and/or statistics, linear algebra, calculus, data structures and algorithms to follow the Masters level technical curriculum delivered. We also look for programming experience to apply the learnings from the courses. Applicants not meeting these criteria should apply to the business stream.
Program Details
What are the costs to participate in the program?
There is no cost to participate in Next AI. The program is delivered by NEXT Canada, a non-profit charity supported through the generosity of Canadian business leaders, entrepreneurs and government partners. Next AI is delivered in partnership with HEC Montréal.
What is the time commitment?
You must commit 100% to the Next AI program. When you are not participating in Next AI training and development you will be working full-time on your AI idea/venture.
Do I have to be in Toronto or Montréal to participate?
This program is traditionally delivered in person in Toronto and Montreal. In Toronto, the program will be held under a hybrid approach, with a focus on in-person participation. In Montréal, while in-person participation will be the most common format, selected teams who are far enough along in their stage of development may be invited to participate remotely, only coming to Montreal for specific events. You will be able to indicate your format preference in the application form, although this does not guarantee that the program will make an offer corresponding to this preference. Contact your site recruitment lead (Toronto, Montreal) to learn more about participation requirements.
Why is Next AI the best program for ventures using AI to solve problems in the supply chain?
Next AI has created a specific offering for supply chain ventures thanks to our partnership with Scale AI. This offering aims to help supply chain ventures with specific challenges in their own industries. In previous years, founders could benefit from exclusive access to mentors with subject matter expertise, dedicated supply chain classes and industry focus events. From one year to another, we are improving the offer to fit supply chain entrepreneurs' specific needs. The 2023 Supply chain offering will be announced at the beginning of the 2023 cohort.
Can I continue to work at my job while I participate in the program?
No, all participants must be 100% committed to the program and their idea/venture for the duration of the program.
What language is Next AI delivered in?
The official working language for Next AI is English. However, in Montréal, participants can be served in French and in English. They can submit their business material in French or in English.
Funding and IP
Who owns the intellectual property developed within the Next AI program?
IP created during the Next AI program belongs to the venture and should be assigned as such.
My university owns part of my IP through my Ph.D. research. Am I eligible to apply to Next AI?
All IP used by the team within their venture has to either be owned by the venture or the company needs a license to use it.
Do you take any equity for the funding? What are the terms?
Next AI ventures can receive up to $100,000 towards the end of the program on a SAFE agreement from an external fund, conditional to its successful close.
How can we get funded after the program ends?
Top VCs and investors from across North America are involved with NEXT Canada. Many ventures have secured follow-on funding through the Next AI investor network.