Chairman & CEO, The Jim Pattison Group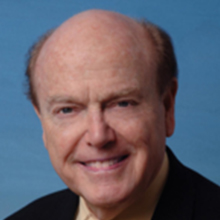 Bio
Jim Pattison is the Chairman, Chief Executive Officer and sole owner of The Jim Pattison Group. The Jim Pattison Group is Canada's 3rd largest privately held company and, in a recent survey by The Financial Post, The Jim Pattison Group was ranked as Canada's 48th largest company. The Jim Pattison Group has more than 33,000 employees, annual sales of $7.2 billion and operations in 455 locations. With investments in Canada, the U.S., Mexico, Europe, Asia and Australia, The Jim Pattison Group is involved in a wide variety of industries including: Food Services, Packaging, Distribution, Manufacturing, Communications, Entertainment, Transportation, and Export Services.
The Jim Pattison Group began on May 8, 1961 when Mr. Pattison purchased a General Motors automobile dealership by borrowing $40,000 from the Royal Bank of Canada, and placing his home and life insurance policy with the Bank as collateral.
Jim Pattison was born in Saskatoon, Saskatchewan and moved with his parents from Saskatoon to Vancouver in 1935. He has lived in Vancouver ever since. While attending the University of British Columbia, Mr. Pattison paid his tuition and expenses by washing cars at a used car lot, and by selling cars to fellow students.
Jim Pattison has served as a Director on a number of Boards, and is currently a director of Canadian Forest Products (Canfor Corporation); Brookfield Asset Management, Sun-Rype Products, and serves as a Trustee on the Board of the Ronald Reagan Presidential Foundation. He held the unpaid position of Chairman and President of Expo '86, a world-class Exposition held in Vancouver, British Columbia from May 2, 1986 to October 13, 1986.
Mr. Pattison was appointed to the Order of Canada in 1987, and the Order of British Columbia in 1990. He is also the recipient of the Governor General's Commemorative Medal for the 125th Anniversary of Canada. Mr. Pattison is an inductee of the Canadian Business Hall of Fame and the Canadian Professional Sales Association Hall of Fame. He was awarded Entrepreneur of the Year – Lifetime Achievement Award in of 2000, the International Horatio Alger Award in Washington, DC in 2004, and the Young President's Organization Canadian Icon Award in 2007.
Mr. Pattison is married. He and his wife have three children, and in his leisure time, Mr. Pattison enjoys playing the piano, organ and trumpet.