Founding Chairman and Co-Chair, NEXT Canada and Managing Partner, Alignvest Management Corp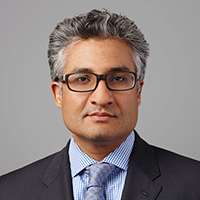 Bio
Reza Satchu is Founder and Managing Partner of Alignvest Management, an investment management firm with three platforms: (i) Alignvest Private Capital which seeks to invest in attractive private businesses alongside industry leading management teams; (ii) Alignvest Investment Management which provides sophisticated multi-asset class investment management across global public and private markets; and (iii) Alignvest Capital Management, which manages equity hedge funds focused on North America.
Mr. Satchu has substantial experience as an entrepreneur and investor. He has co-founded, built and managed several operating businesses from inception including: SupplierMarket, a supply chain software company with investors that included KKR and Sequoia Capital, which was sold to Ariba for $925 million; StorageNow which became Canada's second largest self-storage company prior to being sold to InStorage REIT; and KGS-Alpha Capital Markets, a fixed-income broker dealer with over $5 billion of assets. Previously, Mr. Satchu was a General Partner at Fenway Partners, a $1.5 billion private equity firm, and a Financial Analyst at Merrill Lynch.
Mr. Satchu is founder, former Co-Chair and Founding Chairman of Next Canada. He has received Canada's Top 40 Under 40 Award and is a member of the Canadian Advisory Board to the Harvard Business School. Previously, Mr. Satchu served for 10 years as a director of the Toronto Hospital for Sick Children Foundation, most recently as Vice Chairman and as an Adjunct Professor at the University of Toronto, where he taught Economics of Entrepreneurship, a class that for many years was rated by students as the best learning experience at the University. He has an MBA from the Harvard Business School and a BA from McGill University.