Next 36, 2019; Co-founder & COO, FLIK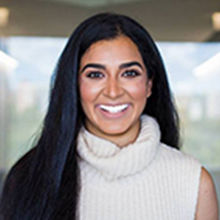 Bio
Ravina Anand is a social-tech entrepreneur and the COO of FLIK, the first female-identifying apprenticeship portal. In a hyper globalized world, Ravina aims to advance women's economic participation and help women from remote and underserved communities. With experience in municipal politics and community advocacy, she promotes diversity by encouraging people to fight injustices and challenge stereotypes. On a global level, Ravina advocates for women and creates conversations around the trends and procurement for scaling social innovation situated in inclusivity, diversity, and equity. She has had the honour of speaking across North America to industry leaders, students, and creators about shattering expectations and breaking barriers.
An autodidactic deep generalist, builder and innovator, Anand is passionate about the intersection of social good and technology. Pursuing an unconventional career path, her myriad of interests in technology, global health governance, and socio political philosophy, has led to a culmination of recognitions including the Top 50 Canadian Business Changemakers, Diana Award, Top 30 Under 30, the President's Medal, Global Changemaker, discussions with the President of Taiwan and the Earl and Countess of Wessex, collaborating with women's Initiative for Gender Justice, the United Nations, and attending the Assembly of State Parties. She is an alumnus of On Deck, Envision Accelerator, Western University Accelerator, Transcend Network, March of Remembrance and Hope, NEXT 36, League of Innovators, Entrepreneurship Hub University of British Columbia, Startup Edmonton, TEC Edmonton Health Accelerator, and the European Innovation Academy. Ravina has received nominations for the Rhodes Scholarship, 3M Fellowship, and Yale-Fox Fellowship.
Motivated by computational health, policy, and space exploration, Ravina is passionate to propel inclusive design thinking and innovation, sparked by her ambition to make life multi-planetary.
Ask me about: Next 36, Next Founders